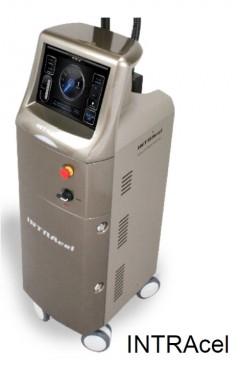 Mechanism of Micro-needling RF
The mechanism of radio-frequency has been mentioned. However, that is about RF treatment which works from outside the body, and transmit the energy to heat up the skin inside slowly to an effective temperature.
Micro-needling RF aims to deliver the energy directly inside the skin, and target accurately to the treatment zone, as well as avoiding the risk of thermal injury to the superficial skin.
To achieve this, a probe with multiple fine needles is used and when the needles enter to a specified depth of the skin, RF is emitted through only the tips, and essentially it acts as a multi-polar RF inside the skin. As the body of the needles is insulated, there is no risk of burning either, to other areas except at the very tip.
As usual, the RF stimulates the regeneration of collagen, and tightens the skin, as well as softens deep scar and reduces pores size.
Advantages of Micro-needling RF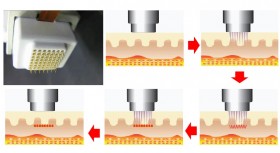 Advantages of RF emission inside the skin :
Energy is highly focused
Insulation outside the tips avoiding thermal injury in other areas
Depth of treatment zones can be selected
Treatment Process
Every person will have a personal needles probe so that there is no risk of cross infection. There is some moderate pain and therefore numbing cream is applied for 30 minutes before the procedure. The time of the treatment depends on the size of area being treated. After treatment there are tiny needle wounds, the skin is red but should not be swollen, which would normally subside in 1 - 2days. The wounds will heal in short time, probably within hours. Antiseptic cream is applied.
In the following few days, use mild facial cleanser, and then again put the antiseptic cream on. It is necessary to avoid strong sun exposure.
Risks of the Treatment
It is not suitable for people who have a heart pacemaker, and also those with serious irregular heartbeats.
For those will difficulty in blood clotting, the recovery time can be much longer due to excessive bruises.
Wound infection can happen but in the proper medical setting, the risk is very low.
Inappropriate operation leading to burning injury to the skin
Area of Applications
Indented scarring
Enlarged skin pores
Tummy lines after delivery
Skin laxity